Yoga
Yoga is more than just a physical practice. Yoga refers to an inner state in which we reach a deep unity between body and mind and also focuses on how we connect with our environment and our fellow human beings. This holistic understanding of yoga, which I experienced from my Indian teachers, I pass on in my yoga classes in Munich. Dates: Group lessons every Wednesday at 20h at Yogastudio Ahimsa, Amalienstraße 41, Munich Maxvorstadt (all levels). Short registration to: welcome@johannesludwig.net Private lessons by arrangement (see practice)
Constellation Work
Constellation work is a fascinating method through which it is possible to gain clarity about inner patterns or relationships or to detach oneself from intergenerational entanglements. With the method of the "constellation of the intention" I always follow the client's intention and work step by step, always according to the speed of the respective person. I also offer aftercare in order to reflect and integrate the new insights from a session. Dates: By arrangement, also possible on weekends Yoga Room Ahimsa, Amalienstraße 41, Munich Maxvorstadt Dates under: welcome@johannesludwig.net
Personal
In my youth I wanted to start a fashion label and become a musician. But the more I came into contact with psychology and different theories about human consciousness, the more my focus changed. After my master studies at the UNESCO Chair for Peace Studies in Innsbruck I spent some time in India, where I lived in the family of my yoga teacher Srikumar in the south of India and studied yoga. I then completed a three-year yoga therapy course in Munich with Sriram, an outstanding interpreter of the Indian yoga philosophy.
In order to expand my knowledge in the psychotherapeutic field, I completed a training in trauma therapy (constellations of the intention) with Prof. Dr. Franz Ruppert. Through these new insights into trauma and bonding mechanisms I was not only able to understand some blind spots within myself, but also the general causes of psychological suffering much better.
To finally bring together these findings and to work further on the development of therapeutic methods, I founded a small and independent research group (Consciousness Research Group) and continued my research at the Chair of Applied Consciousness Studies at the Department of Psychosomatics at the University Medical Center Regensburg.
In order to be able to continue to work on my own projects as freely as possible, my independent work became more and more important in the course of time. Today I work mainly with yoga, constellations and mindfulness work (after Thich Nhat Hanh) in Munich Schwabing, where I regularly offer various seminars and courses in group and individual settings (see practice).
News
Seminar dates 2019
Dates for constellation seminars and other therepeutic seminars for this year will be announced soon
Yoga Retreats on Morotai, Indonesia
in August and September 2018
In August and September I will give two retreats on the beautiful island Morotai in Indonesia with the titles "Yoga and Mindfulness" (15.8 -18.8.) and "The 8 stages of Yoga" (11.9. -15.9.). For application and further information see here: moromadoto.com/
Further news...
Constellation Work
I work with the method of the "constellation of the intention". This method emerged from a trauma-therapeutic context and places the needs and autonomy of the client in the foreground. This clearly distinguishes the method from the classical family constellation. The topic of a constellation can be a family topic, just as as well as professional, health or partnership issues. It is also possible to gain more clarity about team structures in companies, depending on what the client needs to clarify at the moment. The only prerequisite for the constellation is the formulation of an intention by the client. Group session: In a group session the client selects persons from the group as representatives for elements of her intention. The representatives are chosen step by step, depending on the client's pace and their relevance for the group. If it is not an advertised seminar, a group can either be organised by the client herself or I can invite representatives.

Single session: In a single session I work directly with the client on a trusting level. Especially for personal processes such a private framework can be helpful. There are hardly any differences between the technical procedure and group work, as the client can set me up as a representative for different roles or parts and/or use floor markers.
In both approaches, the principle of therapeutic confidentiality naturally applies to all participants. Costs per constellation (group or individual session): 80€ Dates by arrangement: welcome@johannesludwig.net
Yoga
Yoga begins with asana (postures) and pranayama (breathing exercises). This stabilizes and relaxes the body at the same time. The other parts of the yoga path, namely pratyahara (orientation of the senses inwards), dharana (concentration) and dhyana (meditation) aim at the more subtle work with our body and our consciousness. Through this holistic practice path, inner blockages can be transformed, and at the same time many insights into one's own body and consciousness can be gained. In addition, each of these elements contains a great treasure trove of exercises and methods, which are free of any ideological or religious constraints and which can be adapted very well to the respective needs of the yoga practitioner. Group lesson: In group classes I focus on different topics (e.g. breathing, meditation, recitation, theoretical basics etc.). In this way, many different exercises and yoga techniques can be learned in the course of time and a regularity of practice can be maintained through weekly repetition. Further group classes are a good supplement to individual classes as well. Costs: Book of 10-tickets 125€ (valid for six months), drop-in lesson per hour 15€ Date: always Wednesdays, 20.00-21.00h (max. seven persons) Private lesson: Yoga in India was always taught in private lessons. There are good reasons for this, because every body is built differently and therefore needs different exercises. The same applies to our mental state and consciousness. In a single lesson exercises can be adapted directly to the respective person and their needs. The correct postures, breathing or meditation exercises can be chosen according to the goal and condition of the practitioner. The personal benefit is greatest in this respect, as one can only work productively on one's own topics and physical blockages in the long term with the appropriate exercises. All exercises are recorded during the lesson and can be taken home afterwards for better practice. Costs per hour: 60€ Dates by arrangement: welcome@johannesludwig.net
Research and literature
Over time, I have felt how well the work of yoga, mindfulness and the constellation work method complement each other. While yoga and Buddhism have a profound knowledge of the body and human consciousness, western psychotherapy, especially psychotraumatology, enriches us with its knowledge of the connections between bonding mechanisms and the intergenerational transmission of trauma. To accentuate and compare the different approaches and theoretical backgrounds of the methods and thus to apply them more purposefully in practice, is the aim of my research.
Trauma and Inner Transformation. A Holistic Approach
In the article "Trauma and Inner Transformation. A Holistic Approach", I give a brief overview of the theoretical background and the focus of my work. It appeared in 2017 in the sixth edition of Many Peaces Magazine and can be read here for free: magazine.manypeaces.org/2017/07/07/volume-6/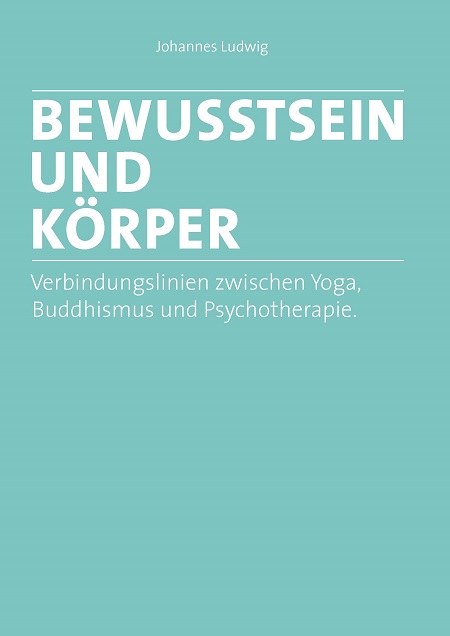 Bewusstsein und Körper
In this scientific work I deal with the theoretical basics of the methods I use in my practice. I examine how human consciousness is viewed in every system and where the emphasis is placed in the transformation of inner suffering. The work can be downloaded here in book form free of charge:
more...